Back to: Index of Skating(1892)
Transcribed from SKATING, page 265 at Open Library
CHAPTER VII
MODERN RACING
BY C. G. TEBBUTT
THE date at which the records of Modern Racing may best be begun is conveniently fixed for us by the circumstance that in the preceding chapter the great achievements of 'Fish' Smart and other famous skaters, who made the winter of 1878-79 so memorable, are duly chronicled. I am tempted, however, to repeat the tribute to the prowess of the wonderful skater just named, for in his best day it might be said of 'Fish' Smart, as it was of Eclipse, he was first, and the rest nowhere. A man of fine development, very muscular and athletic, he was likely indeed to excel in any sport. He could not be described as a typical Fenman ; for, though very powerful, Fenmen are usually too broad-backed and thickset to be lithe and active. George Smart bent very little while skating, less than his brother James, and much less than his uncle, W. ('Turkey') Smart, and his stroke was shorter than that of either ; but his power of spurting was so exceptional as to impress on all his opponents the hopelessness of defeating him. When once he had become champion it was seldom indeed that anyone succeeded in pushing him ; indeed, his races were almost all practically walksover. He was a very graceful skater, and, from being seldom pressed, he had no occasion to spoil his style by excessive labouring.

Continuing the records already begun, it may be observed that the winter of 1879-80 was again a grand skating season ; the National Skating Association was in full life, and took the Fenmen for the first time to London. At Swavesey, some Lancashire skaters, who claimed to be the champions of the North, met the Fenmen, with the result that only one survived the first heat, and he failed in the second. Since that date no one has questioned the superiority of Fenmen. The first race, and the first championship of the N.S.A., was held at Thorney, December 8, 1879, George Smart winning easily ; and throughout the season he maintained a clean sheet of wins, finishing on January 30, at Ely, by defeating Dewsbury in the final.

Jarman Smart was second man to his brother. Dewsbury, Carter, Harrison, Boney, and Collison all claimed third place. George See was not seen to such advantage on his pattens as during the previous winter.

Amateur races were for the first time started by the N.S.A., and their first championship was brought off at Hendon, on the Welsh Harp Water, January 26, 1880. Mr. F. Norman, a well-known skater in the Fens, won, defeating Mr. Louis Tebbutt by 3 yards. This winter may be considered as noteworthy for having shown the impossibility of skaters covering a mile in 1 minute, 1 min. 30 sec., 2 min., or even 2 min. 30 sec. It will be hardly now credited that any believed these times for a mile possible ; but many did so. A Senior Wrangler remarked most confidently, at about this date, to a well-known skater, that he supposed the Fenmen could skate a mile in a minute, and many who considered themselves authorities on skating retailed wonderful records of the old skaters, and were confident they skated a mile in two minutes. For the first time, times were so carefully taken and distances so accurately measured, as to be trustworthy.

The most interesting times were those made at the Welsh Harp, over the championship course of 1.5 mile with three turns. The ice was in splendid condition ; both professional skaters and amateurs competed, and the best times of the season were accomplished. There had also been skating off and on since December 8, so that for England skaters had had good practice.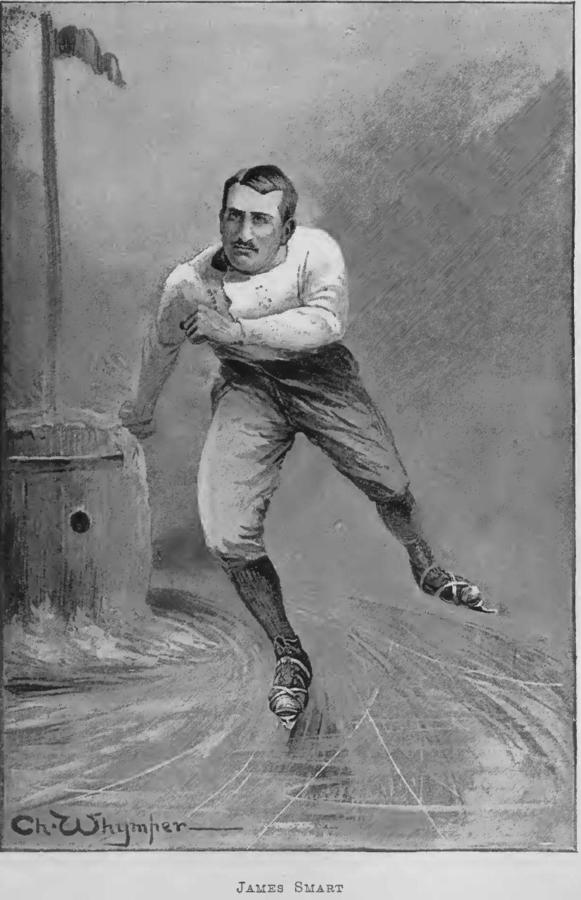 Dewsbury covered the mile and a half, the fastest time, in 4 min. 53.2 sec. ; F. Bones in 4 min. 53.4 sec. George Smart's best time was 5 min. 0.2 sec. Unfortunately, Dewsbury fell in his heat with Smart, or Smart might have been pushed into doing the best time. Over the same course Mr. F. Norman did the best amateur time in 5 min. 23.2 sec., whilst Mr. L. Tebbutt took about 0.6 sec. longer.
The superiority of the professionals was apparent, the best amateur taking some 30 seconds longer in the mile and a half than the second-best professional.
1880-81. For the third consecutive winter skaters had a good outing, and the N.S.A. arranged, and were able to carry out, a series of matches. The professional championship was held at Welney, January 15, and other races at Crowland, Ely, Cowbit, Birmingham, Elstree, Norwich, Littleport, Upwell, and Whittlesea. The amateur championship (which Mr. F. Norman again won) came off at Cambridge, Jan. 17. George Smart successfully maintained his position of champion, which he had now held for three successive winters. The prominent position of George Smart, and the holding of races in and near large towns outside the Fens, aroused general interest in this Fen sport. Daily and sporting papers soon spread skating news all over the country, and, in fact, it may be said that speed-skating became recognised for the first time as a national sport. The N.S.A. had fortunately been launched upon a high wave of successive cold winters, and was now fairly afloat. The vexed question of how fast 'Fish' Smart could skate, and, indeed, the best time to be expected from the best men, was brought within measurable distance of being answered. Mr. Neville Goodman offered 2 L. to anyone who would skate a mile without favour of wind in 2 min. 50 sec. ; and at Cowbit Wash, on January 20, offered 5 L. to George Smart if he could cover the mile with a flying start in 2 min. 40 sec., there being no appreciable wind. The ice was not good, and Smart skated the straight mile in exactly 3 minutes. Since this all extravagant estimates and mythical and fabulous times only find credence with the most ignorant. Alfred Hawes covered the mile the same day in 3 min. 17 sec. ; and at Elstree, on January 22, George Smart did the mile with three turns in 3 min. 17.4 sec., the ice on the occasion being very good and the wind very slight.
Not satisfied with national honours, negotiations were opened with the Dutch, in the hopes of our best skaters being able to compete in Holland. A qualifying race was then held at Ely, to decide upon the four skaters who should represent England. The distance was 1,400 metres with one turn, and the merits were judged partly by winning heats and partly by time. The fastest times were George Smart, 2 min. 46.6 sec. ; Alfred Hawes, 2 min. 55.4 sec.; Jarman Smart, 2 min. 55.4 sec. ; and F. Bones, 2 min. 56.4 sec. Smart's time represents a mile (1,609 metres) in 3 min. 11.4 sec. Unfortunately, the frost broke up before any international race could be held. This year Isaac See, brother to George See, both of them sons of William See the veteran, commonly called 'Gutta Percha,' and James Smart, youngest brother of George Smart, both sixteen years old, began their racing careers, which made them both, but especially Smart, afterwards so famous. In the previous year a Lancashire athlete named Hill, trained to the pink of condition, had defeated George Smart over a quarter-mile course at Carmill Dam ; but this year Smart turned the tables on the North- countryman by defeating him at Welney at the opening of the season. This illustrated more than any other feat George Smart's athletic powers. He was quite untrained for the event, had not had his skates on prior to the race, and the distance was so short as to prevent his having much advantage from his Fen style.
The result of negotiations between the N.S.A. and the Dutch Skating authorities was an international match fixed on February 1, but a persistent thaw set in and drowned all hopes of carrying it out. In connection with the St. Ives branch of the Association, Mr. Albert Goodman and Mr. Sydney Tebbutt brought out a standard type of Fen skates. Until then skates were made by manufacturers who had but little knowledge of the requirements, or by the village blacksmith to the order of a skater. Two kinds were decided upon, one for racing, with thinner blades than had previously been in use ; the other, of stronger make, for ordinary skating. These are now the recognised Fen skates, and are made by Messrs. Colquhoun & Cadman, under the supervision of Messrs. A. and C. G. Tebbutt. In 1882, Messrs N. and A. Goodman brought out a work called 'Fen Skating', both gentlemen being fast and experienced skaters who had taken great interest in the sport. Mr. N. Goodman, M.A., was Chairman of the N.S.A., and certainly no Englishman had indulged so much as he in this pastime. On occasions he had crossed the North Sea to Holland, and explored its canals on skates ; there was hardly a Fen drain he had not skated along, or a Fen village he had not visited, in excursions covering 50, 60, and nearly 70 miles in the day. This work, 'Fen Skating', for the first time gave the public a true insight into the subject, showing how the Fen districts were peculiarly favourable for the development of speed-skating, and for the first time demonstrating that the style of these hardy Fenmen was not a mere scramble or go-as-you-please, but was as perfect a science, requiring as much skill, and was capable of as much finish, as any other athletic exercise ; as also that skates of special shape and make were necessary. A carefully thoughtout map, with the geography of the Fen drains, by Mr. S. Tebbutt, enables an outsider during a severe winter to make himself master of the Fen districts. This must be considered the standard work on Fen-skating.
The glacial wave which gave us a series of cold winters now passed off, and we were treated to the mild unhealthy wet winters of 1881-82, 1882-83, 1883-84, and 1884-85, during which a few enthusiasts did indeed obtain a day or even a few days' skating every winter, but only by great watchfulness, and many immersions. It may, however, be said that there was in reality no skating until the winters of 1886 and 1887, and it was impossible to bring off any championship fixtures. But if the N.S.A. could not achieve anything in England, they endeavoured, induced by the energy of Mr. Goodman their Chairman, to keep up interest in the sport by arranging with the Dutch Skating Association for George Smart to compete in the first International race at Leeuwarden on January 28, 1885.
It may be just as well here to consider to what condition speed-skating had developed in other countries, since the rest of these remarks will refer largely to international skating.
America.- The historic reputation of Charles June, of Newbury, whose career began about 1838, and the more recent fame of Mr. T. Donoghue, senior, also of Newbury, who from 1863 until within a few years of the formation of our N.S.A. was an unbeaten champion, mark Newbury and the Hudson River as the head-quarters and venue of fast skating in the United States. Blessed with many sons to inherit their father's capacity and love for speed-skating, Mr. T. Donoghue was in 1878-79 carefully training up the now well-known Donoghue Brothers.
The distinction between amateur and professional began to be of importance when a ten and twenty-mile Amateur Championship of America was in 1879 inaugurated. Both these races were won by Mr. G. D. Phillips, who must therefore be regarded as about the best skater of the period. Long-distance races had been, and were, the order of the day. We find Mr. John Ennis covering in 1878, at Chicago, 100 miles in 11 h. 37 min. 4 sec., and 145 miles in less than 19 hours. As elsewhere, fabulous times were credited to different skaters, and Mr. W. B. Curtis (who is connected with the leading sporting paper of America, 'The Spirit of the Times', and is a devotee of speed-skating) determined to find out the real speed of skaters, and to expose the absurd legends of marvellous times which were then current, viz. : 1 mile with one turn in 1 min. 58 sec., and 30 miles in one hour, etc. In 1880 the journal in question challenged anyone to equal these times, and in 1881 offers were made of $250 to any skater who could skate one mile on a six-lap track in less than 2 min. 50.5 sec., or beat the then bicycle records from 1 mile (2 min. 47 sec.) to 1,000 miles, or the running records from 50 to 200 yards. In 1882 the principal event was a skate of Mr. J. S. Montgomery, of 50 miles in 4 h. 13 min. 36 sec. at New York, establishing records from 25 to 50 miles.
We find in Canada that speed races were held at the principal towns, such as Montreal, Halifax, Charlottetown, etc., in connection with their different carnivals, and, in 1881, Brown won the gold medal in the championship of Montreal. In 1883, the best amateur skaters were Messrs J. H. Stewart, Elliott, A. Scott, and, until he became professional, F. Dowd. Races were held (on account of the snow) on small, often covered-in rinks, about 14 laps to the mile ; and when in 1883 Axel Paulsen, of Norway, visited America for the first time, and competed in a five-mile race at Victoria Rink, Montreal, he could not go round these small turns at any speed, and was easily beaten. In 1884, Paulsen again crossed the Atlantic, and as an amateur this time carried all before him. First at New York in a 25 -mile race, he covered the distance in 1 h. 33 min. 28 sec. ; then travelling to Milwaukee, he defeated Dowse, and, returning, won the Great International l0-mile match at Washington. In this race R. A. Elliott and C. H. McCormick from Canada, Hemrnent from London, Franklin from Norway, and G. D. Phillips, C. Pfaff, S. O'Brien, and J. S. Montgomery of the United States competed. Excepting Messrs. S. D. See, A. Stewart and T. Donoghue,jun., all the best amateurs of the New World were included. Paulsen's time was 36 min. 7.4 sec. ; Elliott was second, and Phillips third. This year, 1884, the United States Skating Association was formed to promote amateur skating, and the energies of Mr. W. B. Curtis were recognised by his selection as its first President. The first race held under the N.S.A. was over a five-mile course. The most noteworthy feature was that no skater covered the distance without a fall, while some fell several times. The ice was shockingly bad, and elicited from an Irishman the remark, 'that when next he came there to skate he would go somewhere else.' S. O'Brien eventually won, and Mr T. Donoghue was second. During 1883 and 1884, Mr. G. A. Phillips, whose forte was short-distance racing, sprinted 100 yards in 10.6 sec., 220 yards in 22.6 sec., and a quarter mile in 44.2 sec. without favour of wind, and from a standing start.
Professionalism had died out in the United States, and only survived in Canada. Professionals were undoubtedly superior to the amateurs, and acquired extraordinary proficiency in spinning round the small rinks The best men were McCormick, Black, F. Dowd, Lardham and Connell ; Whelpley having had to give way at last owing to advancing years.
A most important event was the compiling by Mr. W. B. Curtis of authenticated amateur times, and the publishing them in 'The Spirit of the Times' on May 17, 1884. These times were given for from 75 yards to 50.25 miles. Knowing the pitiless but impartial scrutiny to which they were subjected before being passed and allowed, I may remark that there can be no doubt of their accuracy. Since 1884, the list has year by year increased, till it now covers some five or six columns of closely printed matter, and to those interested in speed-skating is full of valuable notes and details.
Before 1884, and since, the 'Clipper' and the 'World' have yearly published a list of athletic records, containing professional as well as amateur times.
Norway.- Skating in Norway dates back some 100 years or more, and Odalen was considered the Norwegian Welney for skaters, but it was Axel Paulsen who made speed-skating of national instead of local interest. His father, A. Paulsen, like the fathers of all the present great skaters, was interested in skating, and in 1865 was the chief promoter of races.
A race was held over 1,500 Norwegian ells, or 1,040 English yards, in 1863, which is remarkable for the number of entries, and times given. There were 140 entries, of whom 70 started. Mr. Nansen is declared to have won in 50 sec., or at a rate of 42.5 miles an hour, or a mile in 1 min. 25 sec. None of the 70 took longer than 90 sec., or skated at a less rate than 23.5 miles an hour, or a mile in 2 min. 32.5 sec. These times must, I fear, be catalogued with a long list of others hailing from all skating. countries, under the heading of 'Too good to be true.'
In 1878, over a 8,500-metre course, Frith Nansen won in 14 min. 20 sec. ; Bodin was second. In 1880, another important race over a 5,000-metre course was won by Axel Paulsen in 11 min. 11 sec. ; F. Nansen second, 11 min. 27 sec.; and L. Strom third, 11 min. 48 sec. In 1882, Axel Paulsen, P. O. Aune and Carl Verner left Norway to compete in the Vienna races, which were held on January 21 and 22, over a 1600-metre course ; Paulsen won, Aune second, Verner third. The Bavarian and Vienna skaters were nowhere against the trained Norwegians. We have seen how, in 1883, Paulsen suffered defeat in Canada, and how, undaunted, trusting to his superior training and the improvement he had made in racing skates, he returned and swept America of amateur prizes.
Holland.- Whilst the feature of racing in America prior to 1885 was long distances, and in England one and a half to two miles, in Holland the courses were very short and straight, only in fact about 160 metres, or 175 yards about, in length. As in England, races were for money, and the competitors all professional skaters. The Frieslanders, like our Fenmen, carried all before them. As Holland has been dealt with in the preceding chapter, there is no need to give more details here.
International Racing.- Having referred to the speed-skating of different countries, let us now consider the important international race at Leeuwarden, where for the first time the English and Dutch met. Axel Paulsen and Carl Verner, the Norwegians, had also entered for the race, and actually arrived from Norway at the scene of action the night before, but, complaining of the sharpness of the turn, would not compete. Besides George Smart, C. G. Tebbutt and S. Burlingham came from England, and all the best Dutchmen competed. The result was the Dutch champions divided the prizes as they liked. Benedict Kingma beat Smart, P. Bruinsma defeated Tebbutt (who fell), and Huitema won from S. Burlingham. It was well known that the famous George Smart was but a poor specimen of his former self; for over the course the previous day, in a trial with Mr. Tebbutt, it was all he could do to hold his own instead of coming in a good hundred yards or more ahead. The English also had had no skating, or, at best, only a snatched day or two, since 1881 ; still, with a knowledge of their disadvantages, all felt the result to be most discouraging. On the eve of the race the course looked magnificent, the half-mile out and half-mile back again all roped in and lined by hundreds of national flags. The ice was from a foot to eighteen inches thick, and though alarmed by threatening clouds, Baron de Salis, Secretary of the U.S.A., assured the English that 500 sweepers were available to clear the course of any snow that might fall. Next morning the temperature was like summer ; rain had fallen, and the course in places was covered with one to two inches of water. The night before the race, the winner, P. Bruinsma, announced that he was to be the next day's champion, since the Dutch champions had met and had arranged for each to win one of the various contests, his being this international one. Even the results of the heats were decided upon beforehand ; all outsiders, English or Dutch, were to be pushed hard and beaten ; but should two of the circle of champions meet, it was to be a walk over, the winner being left fresh for the next heat. Surely enough in the final Van der Zee, clearly the best man, and well ahead, slowed up at the finish, and beckoned to P. Bruinsma, who was evidently exhausted, to pass him and win. This pre-arrangement is no new idea, and indeed has been practised in the Fens. An outsider was always handicapped, and it required a skater a head and shoulders above the whole clique to come in and win ; as William 'Turkey' Smart did when, one after another, he defeated all the Southern skaters and founded the Welney school.
The result of this race effected an important change in skating. That genuine sportsman Baron de Salis determined to put a stop to this kind of racing, and, being backed up by Mr. J. van Butingha Wichers and others, decided upon the time test, which has since been maintained in spite of a natural opposition to it. Later on Mr. Neville Goodman, who had been consulted, and from the first approved of this way of deciding races as evidently the fairest, prevailed upon the N.S.A. to adopt it, and the success which attended the Dutch races removed most of the opposition to it in England. Formerly, when once a skater like George Smart became champion, scarcely anyone ever tried to push him, and if in the final a skater presumed to try conclusions with him, he found the champion quite fresh from his previous walks-over. The times done by the champion under the old system did not represent his real speed, and often other heats were much faster. Many examples of races might be given. Thus at Cowbit Wash, on January i, 1887, Mr. Wadsley, after a neck-and-neck race, defeated Mr. C. G. Tebbutt in the best time of the day, viz. 5 min. 33.8 sec. over the mile and a half course. He next met, and after a hard race beat, Mr. F. Norman, the then amateur champion, his time being 5 min. 46.4 sec. In the final he was defeated by Mr. R. Wallis by 12 yards, the winner's time being 5 min. 41.2sec. In his previous heats Mr. Wallis was never pushed, his times being 5 min. 53 sec., 5 min. 52.4 sec., and 6 min. 3.4 sec. It is too much to say that Mr. Wadsley would have defeated the champion if they had met in the first heat ; but it is not improbable that, had they exchanged opponents, the result of the final might have been different.
The effect of the time test is to bring out the relative position of the skaters, for a skater has not simply to defeat his opponents, but must from start to finish do his best. Under Baron de Salis's system, those who did the four best times raced for the final positions, and it has never been found safe, however good a skater considers himself, to take matters easy in the hope of being fresh for the final, as Messrs. Norsing and Grunden found at Hamburg in February 1891. Both knew no one could hold a candle to them, both had won a race, and a winner of two events secured the title of the Champion of Europe. Norsing in the third race was drawn against Grunden. Instead of racing, they played together until the final lap, simply spurting for the result at the finish, which Norsing won ; but Underborg and Schon afterwards did better times, and came in first and second. Mr. Norsing will not soon forget how he lost the Championship of Europe.
Another good feature which resulted from the race at Leeuwarden was the establishment of the mile - 1,609 metres - as the recognised test distance for skating. The Fries skaters were naturally wedded to their short and exciting 160-metre bursts of speed, not too tiring to prevent the skaters from rapidly recovering for the next race. But after their first experience of the mile race, when the Dutch came off so well and the English so ill, they felt constrained to agree to the longer distance. Whether the mile is far enough to suit the Fenmen is doubtful. Our championship course is one and a half mile, and two miles is generally considered a better test of style and endurance.
As the Dutch had failed to meet Paulsen and Verner at Leeuwarden, Van der Zee and B. Kingma went during February to Christiania to skate the Norwegians on their own course. It was a three-mile race, and quite unsuitable for the Dutch skaters. Paulsen came in first, 11 min. 8.5 sec. ; Van der Zee second, 12 min. 13.5 sec. ; Kingma third, and Verner fourth. From this it would appear that Paulsen might easily have won at Leeuwarden. On January 27, 1885, an Englishman living in Germany, Mr. Louis Tebbutt, showed what could be done by a little practice. Over a course about three times round to the mile, he completed 101 miles in 11 h. 40 min., doing the 100 miles in 11 h. 33 min., securing the record for that distance.
The winter of 1885-86 was another blank, the keenest skaters only obtaining one or two days on the ice. All the world over, indeed, the weather was exceptionally mild. Norwegians, Dutch, and Germans met, however, at a race at Hamburg on January 22 and 23, 1886, and in the mile Paulsen was again first, 3 min. 5.4 sec., with De Vries, a Dutchman, second, 3 min. 6 sec. In the 3,500-metre race Paulsen was once more first, 7 min. 14.6 sec. ; Veninga, a Dutchman, second, 7 min. 30 sec. The United States N.S.A. were only able to bring off a few events.
1886-87. The year 1886-87 saw a full establishment of the time test, the coming forward of new champions, the development of amateur races, and the trials of new kinds of courses. When the new year opened Mr. R. Wallis wrested the Amateur Championship from Mr. F. Norman, who had held the title since its formation in 1879, although he had taken part in only two contests during the seven years. Two days later George Smart again won the Professional Championship, though many thought that George See and James Smart were his superiors. These championship races were the last held on the old lines.
The Dutch N.S.A. Amateur Championship came off at Slikkerbeer on January 19, and for the first time the whole arrangements were carried out in the new style, distance one mile, shape of course a horseshoe, half-mile out and halfmile return. The four best performers skated again, and according to the times were placed in order of merit. If the weather had only been as excellent as the arrangements, all would have been perfect ; but alas ! a rapid thaw affected the thin top surface ice, which allowed the skaters to cut through, and spoilt alike the pleasure of the onlookers and the pace. The writer and his brother, Mr. A. Tebbutt, were the only English competing, and they were so delayed en route that they arrived whilst the races were in progress. Mr. C. G. Tebbutt won the Championship, and for the first time the Dutch suffered defeat at the hands, or rather the feet, of an Englishman. Messrs. Vollenhoven, Pander, and Bloomenstein, all Dutchmen, were respectively second, third and fourth.
Two days before, the Dutch professionals, Arie van den Berg, Benedictus Kingma and Veninga, had met Harald Hagen, the Norwegian, who was superseding Axel Paulsen, and the Germans, Lundblad and Grouth, at Hamburg. Van den Berg won the mile race in 3 min. 16.8 sec., Hagen being second, although in a previous heat Hagen had only taken 3 min. 13 sec. The Germans were last. In the 3,500-metre race, Hagen was a good first, Van den Berg second, with 10 seconds longer. A month later, February 16th and l7th, Van den Berg and B. Kingma entered the list against George See and James Smart. Dissatisfied with the performance of George Smart in 1885, and in opposition to the wishes of many, Mr. Neville Goodman was determined again to try the chances of war against the Dutch. With the generous help of Mr. H. Few and some others, Mr. Goodman took the eldest son of the once famous William See, and a nephew of the still more famous William Smart, who was also youngest brother to George Smart, over to Holland. This almost historic encounter came off at Slikkerbeer ; the ice was in splendid condition, there was very little wind, and the skaters were fit. Three races were held : one mile, 3,500 metres, and a short race of 320 metres. See and Smart did full justice to the confidence placed in them, and finished first and second in the first two races, but were nowhere in the short 320-metre race. The times made were extraordinary, and are world records. One mile: George See, 2 min. 53 sec,; James Smart, 2 min. 53.8 sec.; 3,500 metres : See, 5 min. 45.4 sec.; Smart, 5 min. 51 sec.; 320-metre race : Van den Berg, 28 seconds; Kingma, 28.4 seconds. The times were considered by some critics too good to be true. They were, however, taken by two officials with well-tested stop-watches, and at the request of Mr. Goodman, Baron de Salis had the courses remeasured by a Government surveyor, when they were found correct. If these times are not trustworthy, it may be asked what times can be depended on ?
Across the North Sea, Hagen, with youth on his side, was replacing Axel Paulsen ; and Mr. E. Godager won the first Norwegian amateur championship, held at Hamar, covering 5,000 metres in 10 min. 29 sec. Amateurism was getting strong in Scandinavia, and to win races it was necessary to be in good training. The blades of racing skates, it may be observed, were becoming thinner, flatter, lighter, and longer, prolonged behind the heel and in front of the toe.
In the west, across the Atlantic, in Canada, McCormick defeated the boy F. Dowd in five races. All the races were round a rink fourteen laps to the mile. In the 5-mile race McCormick made the following wonderful times : first mile, 2 min. 58 sec. ; second, 6 min. 45 sec. ; third, 10 min. 46 sec. ; fourth, 14 min. 50 sec. ; and fifth, 18 min. 40 sec. Thus the four great champions of their respective countries were George See, England ; Arie van den Berg, Holland ; Harald Hagen, Norway ; and Hugh McCormick, Canada : all professionals. The U.S. A brought off some of their Amateur Championship races. The 220 yards straight away Mr. G. D. Phillips won in 20.4 sec. ; 25 miles, Mr. F. W. Craft, 1 h. 39 min. 22 sec. One mile, Mr. T. Donoghue, 3 min. 14.2 sec. A straight mile was measured on the Hudson River to see in what time the distance could be covered with a strong wind in the rear and with a flying start. A favourable opportunity occurred on January 31. The ice was good, and a very strong wind was blowing. Several tried the mile with a flying start. The best time was done by Mr. T. Donoghue in 2 min. 12.6 sec. ; the wind we are told freshened very much at the time, as without it such an extraordinary time would be impossible.
A series of letters by Mr. N. Goodman came out in the November Nos. of the 'Field,' upon Subscription versus Gate, Time versus Tape, and the Best Courses. They contain a good deal of information about those subjects, and are of value to those who wish to become versed in skating matters.
The courses in use in England are the old-fashioned parallel courses ; each skater taking one side and crossing over to the other, at each end. In Holland the courses have straight sides, big curved ends, and each skater has a separate course. To equalise the difference in the inside and outside courses, at each round the skaters change over. In Canada small rinks are used with no division between the competitors, and when only two opponents meet they were started from opposite sides. In the United States they have straight sides with curved ends, but with no division between the skaters, all the competitors starting together. The Dutch system is evidently the best and fairest.
At a meeting of our N.S.A. it was decided to adopt the time test.
1887-88. The winter of 1887-88 was a failure as far as racing in England was concerned. On January 5, Mr. N. Goodman, with George and James Smart, George See, and Mr. C. G. Tebbutt, hearing there were skating and racing fixtures in Holland, went over to Heerenveen. It was but jumping out of the frying-pan into the fire, and all soon returned. After the new year opened, however, frost set in and a number of important races were held. Mr. Alexander von Panschin, on January 8, at Vienna, won the Austrian Championship of one mile (less nine yards), defeating Mr. Blatter, the last year's champion. The United States N.S.A. races, after some trouble, came off on January 20, 21, 25, and 28, with the following as winners : 1/8 mile, Mr. S. O'Brien, 22.4 seconds ; 1/4 mile, Mr. T. Donoghue; one mile, Mr. T. Donoghue, 3 min. 46.2 sec. ; Mr. Joseph Donoghue second ; ten miles, Mr. Joseph Donoghue, and T. Donoghue second ; twenty-seven miles 1,366 yards, Mr. T. W. Craft.
At Copenhagen, Mr. T. Grouth, on January 29, won the one-mile race in 3 min. 40 sec. At Hamburg, February 1 and 2, Mr. J. H. Harms won the 3,000 metres and 7,500 metres races. At Christiania, Feb. 5, Mr. Fritz Lulu secured the one-mile race in 3 min. 2.2 sec., whilst at Amsterdam, on February 25, Mr. Jurrjens won the two-mile race in 7 min. 16 sec. All the above are international amateur races. The important professional races are as follows : at Amsterdam, on February 28, James Smart won the two-mile international race, George See second, Van den Berg third, Kingma fourth. Smart's time was 6 min. 46 sec. For the first time he showed his superiority to See, and that he was really the best Englishman. At Christiania, Hagen again defeated Axel Paulsen in a ten-mile race ; the time given was 33 min. 26 sec. Previous to this Paulsen had beaten Aven, the Swedish champion, in a five-mile race. Having leave to use the Amsterdam racecourse, Mr. C. G. Tebbutt skated forty miles in 3 h. 0 min. 7 sec. on March 1, and secured the record for all distances above twenty-five miles. Axel Paulsen skated backwards a mile in 3 min. 31.6 sec. The position of the professionals was unchanged, excepting that James Smart took the place of George See for England. It is difficult to classify the position of the amateurs.
1888-89. The weather during the winter of 1888-89 was of a sort that permitted most of the championship races to be held, but after all it was a stingy permission. In the English races, January 4, James Smart took his proper place as champion ; his time for a mile and a half was 4 min. 56 sec. ; George See, his cousin, was second. Mr. William Loveday won the Amateur Championship, displacing Mr. R. Wallis, time 5 min. 15.2 sec. ; his brother J. Loveday was second. This was certainly a Welney year, as the above winners all hailed from this out-of-the-world but world-renowned village.
The greatest races of the year were held at Amsterdam on January 8, 9, and 10, where, for the first time, Dutch, Russian, American, and English met. Result obtained :
1/2 mile : A. Panschin, 1 min. 24.8 sec. ; K. Pander, 1 min. 30 sec. ; W. Loveday, 1 min. 32 sec. ; C. G. Tebbutt, 1 min. 32 sec. ; Mr. Joseph Donoghue fell.
1 mile : Von Panschin, 2 min. 58.6 sec. ; Donoghue, 3 min. 0.2 sec. ; Jurrjens, 3 min. 7.2 sec. ; L. Tebbutt, 3 min. 12.6 sec.
2 miles : Donoghue, 6 min. 24 sec. ; Panschin, 6 min. 31 sec. ; Jurrjens, 6 min. 43.2 sec. ; Pander, 6 min. 46.8 sec. Our illustration, made from a sketch on the spot, shows Donoghue wresting the victory from Panschin at Amsterdam after having been twice beaten by the latter at shorter distances.
Mr. Alexander von Panschin represented Russia, Mr. Joseph F. Donoghue crossed the Atlantic to represent the United States, whilst K. Pander and J. Jurrjens represented the home country. W. Loveday and the brothers Tebbutt did battle for England.
Mr. Von Panschin met and defeated the American at Vienna on January 13, over a course about a mile long, winning again the Austrian Championship. Mr. A. von Panschin was certainly the fastest amateur miler in the world. At Hamburg Mr. Donoghue easily defeated the Germans on January 15 and 16, before he left the Old for the New World. Another important event was the inauguration of the Swedish Amateur Championship, contested for the first time on February 17 and 24 at Stockholm. The Norwegians swooped down and carried off everything. Mr. E. Godager won the 5,000-metre race in 10 min. 5.4 sec ; A. Norseng, second, in 10 min. 5.6 sec. In the l0-mile race, Godager again won ; 33 min. 21.2 sec. In a one-mile race with a flying start, Godager came in first, 3 min. 5.2 sec., and was undoubtedly Amateur Champion of Scandinavia. The United States N.S.A. finished their season with a meeting on February 22, the result being that the 1/8th-mile Mr. T. Donoghue won ; the 1 mile, Mr. H. P. Mosher ; 5 miles, Mr Joseph F. Donoghue, with his youngest brother James a yard behind ; 10 miles, J. Lappe (skated late at night).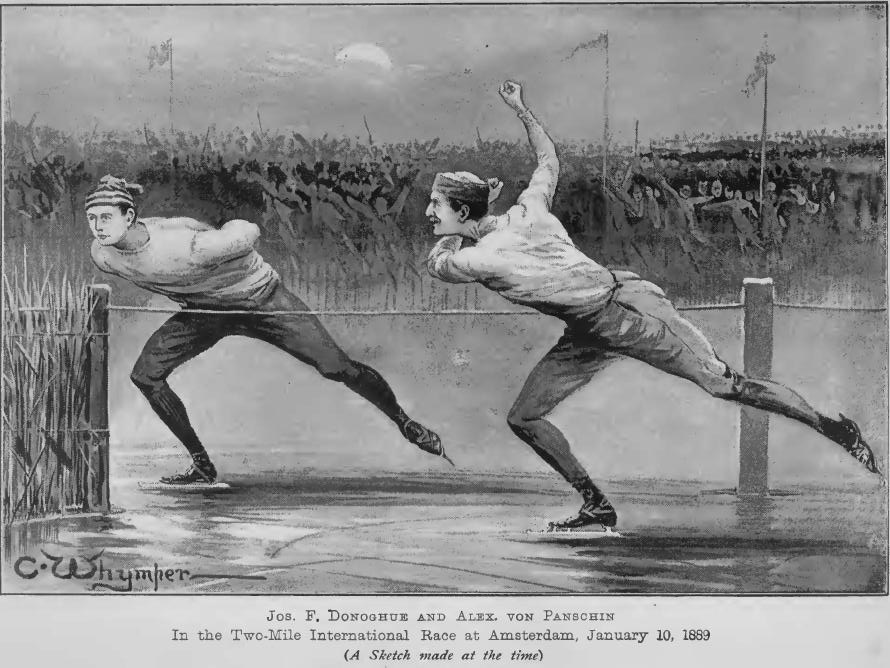 1889-90. For those who depended on the English climate for skating, this winter proved almost a failure ; and for racing, a failure altogether. Abroad, the importance of training was beginning to be felt. In the previous year, Mr. A. von Panschin had, on October 7, started his 2 1/4 months training, and in consequence was able to defeat men much superior to him in style. The Norsemen held their races late in the winter during February and March, so as to be well fit. Seeing the importance of early training, the Dutch N.S.A. sent Mr. K. Pander and Marten Kingma to St. Moritz, a winter resort situated high up among the mountains in the Engadine, and surrounded by several small lakes, and the climate being such that winter begins a month earlier than elsewhere in Switzerland. The result of this early training was seen at Amsterdam during the international races held January 3, 4, and 5, where for the first time Russians, Norwegians, and Dutch met and fought out the battle of supremacy.

Half-mile : Pander, 1 min. 22.4 sec. ; Norseng, 1 min. 24 sec. ; Panschin, 1 min. 26 sec. ; Godager, 1 min. 27 sec. One mile : Pander, 3 min. 6 sec. ; Norseng, 3 min. 7 sec. Two miles : Norseng, 6 min. 25 sec. ; Pander, 6 min. 33.4 sec. Five miles : Norseng, 16 min. 48.4 sec. ; Jurrjens, 18 min. 33.4 sec. Messrs. Norseng and Godager represented Norway. The winner of three out of the four events was to receive the title of Champion of the World. This no one was able to claim. Influenza was raging at the time and considerably thinned the ranks of the competitors. This was the influenza year, and every third man in Amsterdam, specially officials, such as policemen and postmen, was affected by it. Every morning anxious enquiries were made : 'Where's so-and-so ?' and the answer always came 'Down with influenza ; he won't skate to-day.' Panschin, Godager and Pander were all warned off the course by it. The Dutch had never been so well represented, nor had they placed a man on the ice so fit as was Pander, and his success was very encouraging to them. The splendid style of Norseng and Godager indicated that Norwegians were in the first rank of speed-skaters. Alas ! one event overshadowed everything. The Hon. Sec. of the N.S.A., to whom more than to anyone else the success of these Dutch races were due, and whose motto always was, 'May the best man win, but may a Dutchman be the best,' survived the success of Pander but a very short time. Baron de Salis's death was an international loss.

The next important event was the meeting held by the United States N.S.A. on January 29, after three postponements. Mr. J. F. Donoghue for any distance over a mile found no superior. The quarter-mile straight away was won by Mr. H. P. Mosher, 37.2 sec. ; 1 mile by Mr. J. F. Donoghue, 3 min. 28.2 sec. ; and five miles, Mr. J. F. Donoghue, 17 min. 50.2 sec. The second-best man in the United States was undoubtedly Mr. James Donoghue, the youngest brother.

The first Russian International Amateur race was held on February 20, over a half-mile course, and the result as follows : One-third mile : Linsted (Russian), 50 seconds ; Von Panschin, 51.6 sec. One mile : A. Norseng, 3 min. 0.2 sec. ; Linsted, 3 min. 6.2 sec. ; Baltshifsky (Finn) : 3 min. 10 sec. Three miles : Norseng, 9 min. 26.6 sec.

The International meeting at Stockholm was held on March 2, great interest being felt as to whether the Norwegians or Swedes would come out victorious. In the previous year the Norwegians had carried off everything, this year the Swedes more than held their own. The course was triangular, one-third of a mile round, and the following results were obtained :

One mile : O. Grunden (Swede), 2 min. 55.4 sec. ; T. H. Thomas (Swede), 2 min. 55.4 sec. ; Ostersen (Swede), and Fredericksen (Norwegian), 2 min. 55.6 sec. ; Fjoestad (Swede), 2 min. 55.8 sec.

In the 5,000-metre race, Fredericksen, 6 min. 19.8 sec. ; T. H. Thomas, 9 min. 32.8 sec.

It will be immediately noticed that the first five skaters in the mile all did extraordinarily fast times, faster indeed than the hitherto amateur record of 2 min. 58 sec., though Fredericksen was only 17 years of age. K. Pander competed, and covered the mile in 3 min. 2.4 sec. ; but that was no good against the Norsemen.

The third Canadian meeting was held on February 25 and 26, and consisted of figure-skating, hurdle-racing, backward skating, and other fancy contests. C. Gordon won the 220 yards race in 25 sec. ; F. D. Carroll the 1/2 mile, 1 mile, and 5 miles. No important professional races were held, except that between Axel Paulsen and Hugh McCormick, at Montreal, where the Canadian won as he liked. This year further demonstrated that, since skating can only be indulged in on ice, and it is impossible properly to train without skating, residents in countries which have the longest and severest frost have the best chance of becoming the speediest skaters.

In the spring of 1890 came the sad loss of another chief promoter of speed-skating, one whose name will always be associated with the sport in this country. To Mr. Neville Goodman more than to any other is due the high position which we hold in the skating world. Passionately fond of the pastime, a born sportsman, naturalist and writer, and with the purest instincts, he was universally as popular as he deserved to be. His fairness, and determination to keep skating free from those associations which have unfavourably affected so many of our good old English sports, won for him the respect and admiration of all skaters, and the gratitude of true sportsmen.

1890-91. This was what is commonly called a 'good old-fashioned winter.' From early in December until late in the season the frosts were unusually severe. Feeling how heavily our Fenmen were handicapped by the want of practice when competing against foreigners, Mr. C. G. Tebbutt determined to send James Smart and George See to St. Moritz, and through the liberality of the public, a donation from the N.S.A., and the great kindness of Mr. J. de B. Strickland at St. Moritz, our professionals were sent there on December 1. Frost burst upon us immediately afterwards, but the week's practice and change our men obtained was of great assistance to them. The Dutch had also sent Marten Kingma and Mr. Houtman to train in Norway, and the Manhattan Athletic Club despatched Mr. Joseph F. Donoghue to Norway to prepare himself for the European races. He arrived during October. After a race with Fredericksen at Hamar, which the American won, he was sent for to Heerenveen, where all met to compete for the Dutch Championships, Messrs. Landahl and Hille also arriving from Germany. For perfection of arrangements, number of spectators, variety of races, and quality of competitors, this was the most important series of races ever held ; indeed, the arrangements were on such a huge scale that no ordinary Dutch winter frost will suffice to carry them out. There were the Dutch National Championship races. Since Bruinsma won the Professional Championship in 1885, and Mr. C. G. Tebbutt the Amateur Championship in 1887, the Dutch N.S.A. had been unable to bring off an event. On the first day, December 17, the meeting opened with a straight 1/4-mile race, three skaters competing at a time. Hanje was first ; Merk Kingma second, 51.2 sec. ; Benedictus Kingma third. Besides the Dutch only George See skated, but he was of no use over such a short course.

The One-Mile Amateur Championship over the horseshoe course Mr. J. F. Donoghue won, 3 min. 9.8 sec. ; Landahl, 3 min. 32 sec, ; K. Pander, 3 min. 35.2 sec. ; J. D. Houtman 3 min. 39 sec. There was too much wind to favour the best times. During the second day the conditions were more favourable. Three-mile race : Mr. J. F. Donoghue, 9 min. 17 sec. ; Landahl, 10 min. 40.2 sec. ; Hille third, Houtman fourth.

There was a very fine race for the Dutch Championship, one mile round the horseshoe course, and James Smart won in 3 min. 7 sec. ; Marten Kingma, second, 3 min. 8.8 sec. ; George See, third, 3 min. 11 sec. ; Van der Schraff, fourth, 3 min. 17.8 sec. Returning to England, James Smart, on December 23, won also for the second time the English Championship, 1 1/2 mile with three turns, 4 min. 52.2 sec. ; George See, with 5 min. 4.8 sec. ; A. Kent, 5 min. 17.4 sec. ; Isaac See, 5 min. 18.8 sec.

James Smart's time is the best ever made by an Englishman. Most of his races in England were under the time test, and he never suffered defeat, haying won at Cambridge, Boston, Littleport, Chatteris, St. Ives, Huntingdon, Tottenham, and Wisbech. George See was undoubtedly second best.

Marten Kingma, except for his defeat at the hands of Smart, won every race in Holland. Wiebe de Vries, B. Westra, Arie van den Berg, Benedictus and Merk Kingma sharing second honours. At Groningen, Marten Kingma covered the mile in 3 min. 5 sec. Klass Hanje for the first time suffered defeat in a 200-metre race at Amsterdam by B. Decker.

After James Smart and George See, the best of the Fenmen were Isaac See, William Smart, W. Boon, T. Pickering, R. T. Seamark, H. Kent, and A. Hawes.

Another important professional event was the visit to Norway of the Canadian veteran, Hugh McCormick. He suffered defeat at the hands of Harald Hagen at Christiania in three races. Hagen's time for the five miles was given 15 min. 56 sec. Continuing with the amateurs, the next event after the Dutch National races was the English Championship, which Mr. W. Loveday again easily won on December 18.

On the 24th the first International race ever held in England came off at Cambridge. Unfortunately Mr. Joseph F Donoghue was the only foreigner ; he won very easily. One and a half mile : Donoghue, 4 min. 46 sec. ; W. Loveday, 5 min. 7 sec. ; R. W. Rowe, 5 min, 17 sec. ; C. G. Tebbutt, 5 min. 17 sec.

Returning to Holland, Donoghue won all the four events at the International races held at Amsterdam on January 6 and .7.

Half-mile : J. F. Donoghue, 1 min. 25.4 sec. ; K. Pander (Dutch), 1 min. 30.2 sec. ; J. J. Eden (Dutch), third.

One mile : Donoghue, 3 min. 0.6 sec. ; K. Pander, 3 min. 11.4 sec. ; A. Underborg (German), third.

Two miles : Donoghue, 6 min. 10.8 sec. ; Pander, 6 min. 38.6 sec. ; Van Dissel (Dutch), third.

Five miles : Donoghue, 16 min. 1 sec. ; Pander, 17 min. 4 sec. ; Underborg, third.

For the first time thus Mr. Joseph F. Donoghue won the title of 'Champion of the World.' Returning to the United States, he secured again all the events in the Amateur Championship races held on February 7. The winners of the second prizes were in the 1/2 mile H. P. Mosher. One mile : Jas. A. Donoghue. Five and ten miles : E. Simpson. Mr. Joseph F. Donoghue's times were respectively 37 min. 0.8 sec. ; 3 min. 2.6 sec. ; 15 min. 36.4 sec. ; and 35 min. 54.6 sec. The Norwegian amateur racing began by Henrick Lindahl winning the 500-metre, one mile, and one and half mile races, with Olaff Nordfvedt second.

At Hamburg, January 23, Messrs. Adolf Norseng, Oscar Grunden, and K. Pander met the best of the Germans in their International races. The third of a mile Grunden won in 55.2 sec. ; Norseng, 55.4 sec. ; Pander, 57.2 sec. The one mile Norseng won in 2 min, 59.8 sec. ; Grunden, 3 min. 1.4 sec. ; K. Pander, 3 min. 5.4 sec.

To claim the title of Champion of Europe it was necessary to win two out of the three events, and as Grunden and Norseng had each won an event, and were far superior to any of the Germans, it was considered a certainty for one of them ; but the result was a surprise, for in the three-mile race, Underborg (German) did best time in 11 min. 53.8 sec. ; Schon was second, and Norseng third.

The fact was, Norseng was drawn against Grunden, and, as previously stated, instead of their racing hard, and doing good times, there was no pace until the final lap, when they raced in earnest, with the result that both did poor time.

Upon Norseng's return to Hamar on the 29th, H. Lindahl beat him in a five-mile race; time given, 15 min. 16 sec. Another race, held on February 8 at Hamar, resulted as follows : one mile, G. A. Fjoestad (Swede), 2 min. 51.2 sec. ; O. Grunden (Swede), 2 min. 54 sec. ; O. Jorkildsen (Norwegian), 3 min, 2 sec. ; A. Norseng (Norwegian), 3 min. 5 sec. In the three-mile race, Grunden, 9 min. 3.8 sec. j Fjoestad, 9 min. 7.2 sec. ; Norseng, 9 min. 13.2 sec.

These times are most extraordinary, and if, as the 'Spirit of the Times' says, 'all details proved correct,' become far-away world records, and would place Scandinavian skaters at the top of the tree, with the Swedes on the highest twig. At Stockholm, on February 28, in the Swedish International races, O. Grunden won the 500-metre race in 50.8 seconds, with Fjoestad only a 0.2 sec behind, and Norseng 0.6 sec.

On March i, E. Godager won the one-mile and 5oo-metre races. The ice was so soft as to prevent many competing.

This was the last race of the season, and brings speed-skating up to date ; but while many points and positions of skaters are defined, many knotty points are still left undecided. The world's representative amateurs are as follows : England, W. Loveday ; United States, J. F. Donoghue ; Holland, K. Pander ; Germany, F. Underborg ; Norway : A. Norseng or H. Lindahl ; Sweden, O. Grunden or J. A. Fjoestad ; Russia, Linsted or A. von Panschin ; Canada, F. D. Carroll ; with two promising youths, in the United States James A. Donoghue, and in Holland J. J. Eden. To analyse the positions, we find that Loveday has been beaten by Donoghue, Pander, and Von Panschin. Pander has succumbed to Donoghue and Grunden. Underborg has suffered defeat at the hands of Donoghue, Pander, Norseng, and Grunden. Linsted was beaten in the mile by Norseng ; whilst Norseng is this year second both to Grunden and Fjoestad. From this, and a comparison of their times, it would appear that Underborg, F. D. Carroll, and Loveday are left to dispute for the last place, whilst J. F. Donoghue, Oscar Grunden, and Fjoestad would have to fight for the Amateur Championship of the World.

As to the professionals, to all appearances no skater intervenes between James Smart and Harald Hagen in their claim to be the world's professional champions, although the youthful Marten Kingma lies dangerously near on their heels.

It is also decided that the time test is the fairest system of racing, and that each competitor should have a separate track. Accepted curves include a horseshoe ; two straight sides with large curved ends ; parallel courses with sharp turns ; or straight sides and ends with curved corners.

A few words in closing this chapter are due to our English champion, James Smart, for the way in which he has maintained the credit of English skating at home and abroad. In a cottage alongside the Old Bedford River at Welney, five miles from anywhere, he was born, in 1865, the last of a large family of boys. The skating traditions of the family and neighbourhood were so strong that one might almost have expected to find in him some abnormal physical development or peculiarity indicative of skating powers. Two of his brothers, the elder the well-known George 'Fish' Smart, the younger Jarman Smart, were the two best skaters in England, when James was fourteen years old. Their father, Charles Smart was, years before, a speedy skater, with one peculiar defect which prevented his ever winning races : he could never turn or stop, and was perforce obliged to run into anything there might be at the end of a course, sometimes ploughing into the bank or cutting into a snow ridge. The uncle of our champion is the father of Fen skaters, old William 'Turkey ' Smart, whose power, and length and straightness of stroke, have never been equalled. Going back another generation, Jim's paternal great-grandfather, Robert Smart, was from all accounts a good man on his pattens, and early in this century won an important race at Cambridge.

Our champion's aunt on his father's side married old William 'Gutta Percha' See, who shared with old 'Turkey ' for some years winning honours, and their two sons are the well-known George and Isaac See, the second and third best of contemporary skaters, and of course cousins to James, George, and Jarman. I veritably believe the whole group of Welney skaters might easily be shown to be nearly related ; but it suffices to know that our champion was born with a circulation loaded with skating tendencies.

As already mentioned, when a slim youth of sixteen he began racing, and was then beaten in the final of a boys' race by his small compact cousin Isaac See. Unluckily, for the following six years racing was not possible, and the next appearance of Jim was at Swavesey on January 1887, as a powerful man. Here he showed such form that it was evident only George See was his superior. These two were, therefore, chosen to try and retrieve English honour in Holland, where they met and defeated Arie van den Berg and B. Kingma. These two Dutch skaters had just returned from racing against H. Hagen at Hamburg, and were so impressed with the Fenmen that they declared the Norwegian was no good beside them. The next winter the cousins again visited Holland, and with the same success over a two-mile course, only this time James defeated George See, as he did again on January 4, 1889, securing thereby the Championship. Since then our champion has never allowed a skater to lower his colours or approach him.

In the winter of 1890-91 he won the Championship of the Netherlands at Heerenveen, the greatest professional race ever held, and for the second time became English Champion, besides winning some eight or nine other races, all of which were skated under that searching system, the time test. The Swedish and Norwegian Skating Association have generously offered to pay all expenses if he will go over and compete in their races, so appreciative are they of his merits and anxious to gain the credit of defeating him. His record for one mile is only 4/5th of a second longer than George See's world record of 2 min. 53 sec., whilst his times for one and a half mile (the championship course), 4 min. 52.2 sec., and ten miles, 36 min. 41 sec., have never been equalled by an Englishman.

At present his position as champion is as marked as ever George 'Fish' Smart's was, while for length and strength of stroke and endurance his brother never was his equal, although 'Fish ' was a stronger-built man and had great powers of spurting. In appearance and conduct James Smart is a model champion. He is a fine handsome athlete, if anything rather spare for a Fenman, but stripping and weighing well. In height 5 ft. 10 ins., in weight some 11 1/2 stone.

By shooting wild fowl and fishing, and in summer-time doing navvy and harvest work, he keeps himself in splendid general health and athletic condition. Few homes can boast of a finer, handsomer, healthier family than that of James Smart, his wife and three chubby boys, and the aged father.